LEWIS & CLARK CELEBRATES 30TH ANNIVERSARY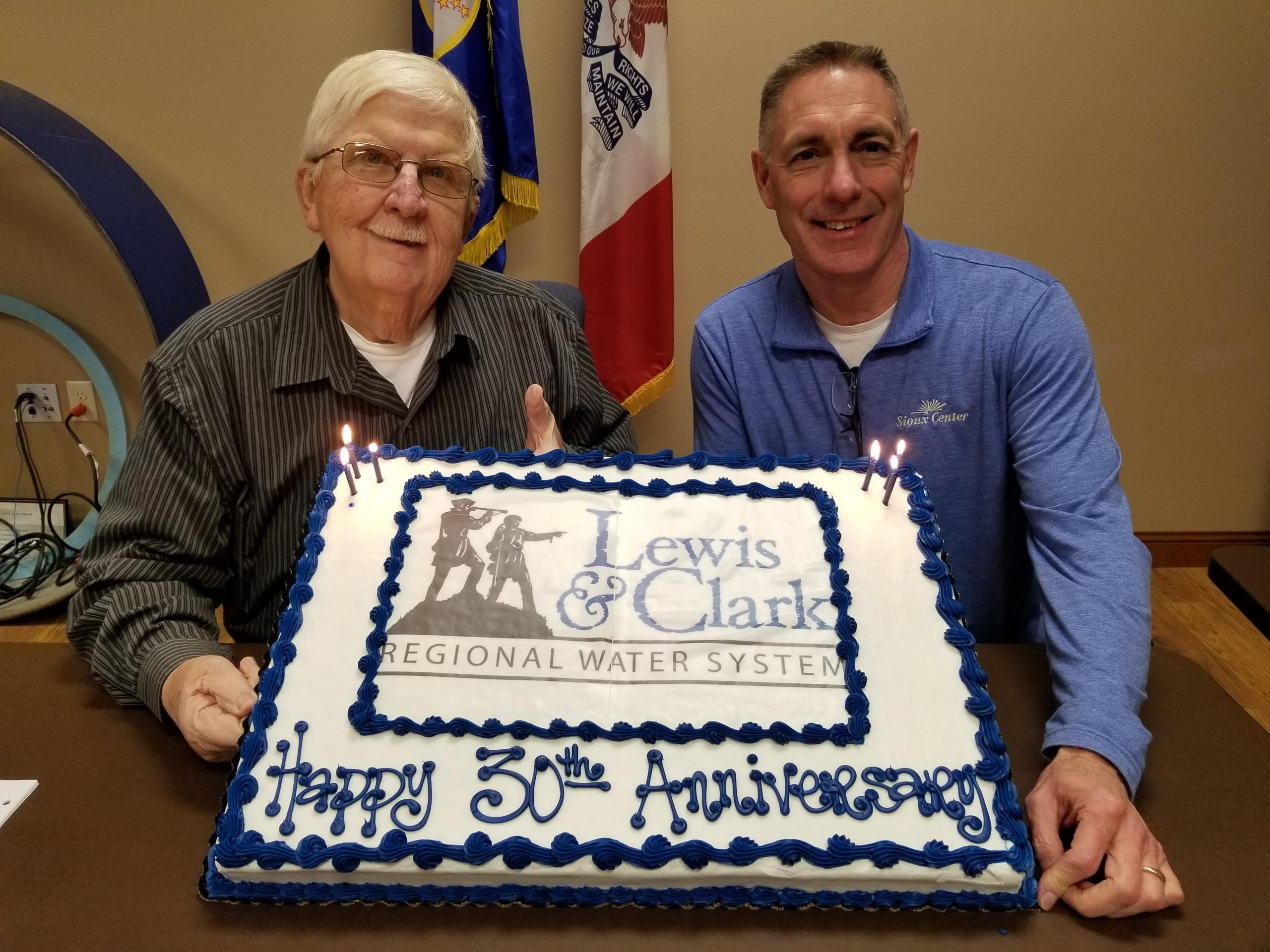 The Board of Directors and staff for the Lewis & Clark Regional Water System celebrated the organization's 30 year anniversary at yesterday's monthly board meeting! Lewis & Clark's Articles of Incorporation were signed on January 29, 1990. In the attached photo Chairman Red Arndt of Luverne (left) and Vice-Chairman Murray Hulstein of Sioux Center are shown with a cake. They are the only two original directors who are still serving on the board.
Organizing efforts for Lewis & Clark – then known as the Southeastern South Dakota Water Supply System – began in 1987 or 1988. The exact date and year has been lost to history.
Executive Director Troy Larson remarked, "This is quite the milestone for Lewis & Clark! A big thank you to Red and Murray for their more than 30 years of dedicated service and leadership. Thank you as well to all the current and former directors. Visionaries like Gary Hanson of Sioux Falls, Charlie Kuehl of South Lincoln RWS, John Buss of Minnehaha Community Water Corporation and Don Habicht of Worthington, just to name a few, played very important roles in helping to bring Lewis & Clark to where it is today. Thanks as well to my predecessor Pam Bonrud for her 10 years of hard work coordinating the authorization efforts. We greatly appreciate the efforts of our engineers at Banner Associates and HDR who have designed an outstanding system, as well as the many federal and state agencies, such as the Bureau of Reclamation and the South Dakota Department of Environment and Natural Resources, for their guidance and advocacy through the years. Lastly, thank you to the current and former members of the tristate congressional and gubernatorial delegations. We would not be where we are today without their strong bipartisan support and effective leadership. Here's to the next 30 years!"